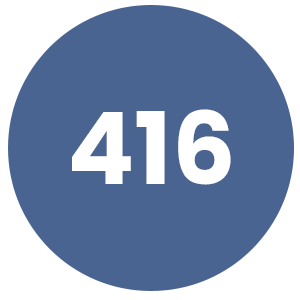 Type 416
Type 416 is a martensitic grade of stainless steel that is readily machinable and corrosion resistant. Stainless steel 416 has better machining properties than austenitic grades, but lower corrosion resistance. We maintain an inventory that ranges from 1" thru 3-7/16" to meet your project demands.
UNS S41600 Condition A (annealed)
Carbon .150 max
Manganese 1.25 max
Phosphorus .060 max
Sulfur .15 min
Silicon 1.00 max
Chromium 12.0 – 14.0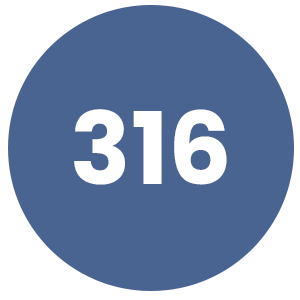 Type 316/316L
Type 316/316L is an austenitic chromium-nickel stainless steel containing molybdenum. This element increases corrosion resistance and provides increased strength at higher temperatures. Type 316L is an extra-low carbon version of Type 316 that minimizes harmful carbide precipitation due to welding.
UNS S31600/S31603 Dual Certified
Carbon .030 max.
Manganese 2.0 max.
Phosphorus .045 max
Sulfur .030 max
Silicon 1.00 max
Chromium 16.0 – 18.0
Nickel 10.0 – 14.0
Molybdenum 2.00 – 3.00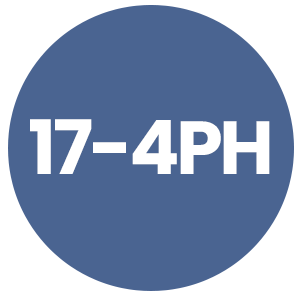 17-4PH
17-4PH, also known as Type 630, is a martensitic precipitation-hardening stainless steel. Primarily comprised of approximately 17% Chromium, 4% Nickel, and 4% Copper. 17-4PH delivers an excellent combination of good corrosion resistance and high strength, at temperature up to 600°F. The mechanical properties may be altered by subsequent age-hardening treatments.
UNS S17400 Condition H1150
Carbon .070 max
Manganese 1.00 max
Phosphorus .040 max
Silicon 1.00 max
Chromium 15.0 – 17.50
Nickel 3.00 – 5.00
Copper 3.00 – 5.00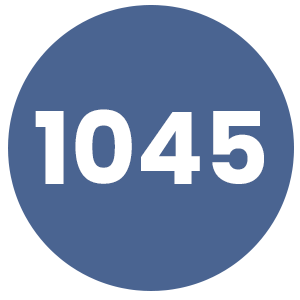 C1045
C1045 – a medium tensile steel that is characterized by good weldability, good machinability, and high strength and impact properties. C1045 is widely used in the pump industry as an affordable option.
Carbon 0.43 – .050
Manganese 0.60 – 0.90
Phosphorus .040 max
Sulfur .050 max